Get bitesize marketing tips and invites to amazin' IRL and online marketing events.
😊⚡️💥👍
Every week we hold IRL and online events with amazing marketers. By getting on the list, you'll be sent an invite to attend, or the recording, podcast, and key takeaways of our sessions if you can't.
Stay on top of what you need to know. Join 22,506 connected and informed marketers getting our newsletter 👇👇
Every week we hold events with amazing marketers. We then send you the recording, podcast, and key takeaways from said event. On top of that, you'll get job updates and invites to upcoming events.
Our speakers include people like…
…and so many more, plus invites to weekly webinars and tonnes of IRL events, too.
What smart marketers are saying about the newsletter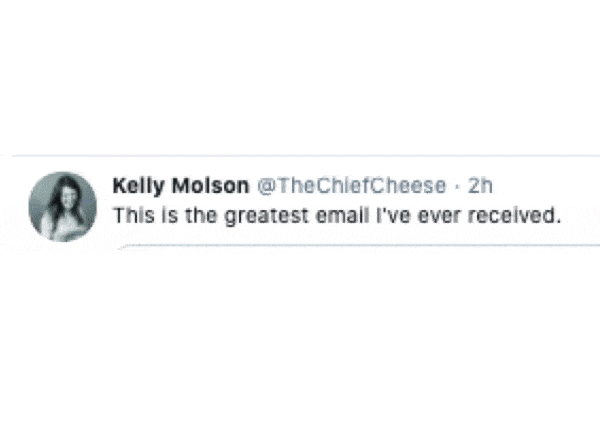 Subscribe juuuuuuust here for fabulous marketing stuff.
Ten reasons to subscribe: 
1. Your marketing peers rave about it. None of the people in the above GIF there are our mum (although our mum's do subscribe…). 
2. We haven't promised you 'the latest news, straight your inbox', which has to count as a win.
3. Sean Paul once did a message for us in an email. People lost their s**t. Surprise is a key word we have in mind when writing.
4. One man once told us that our email tone 'makes his toes curl'. We took that as a compliment as it means we're doing something different.
5. You'll find out about our regular events. But they're not events you'll be sold at. They're events where you will learn and feel like you're part of something.
6. It's designed specifically for marketers, with the intent of making you better at your job.
7. You will be pointed to the best marketing content we can find from across the web which means you don't have to search for it.
8. We do our best to entertain, as much as inform. You'll hopefully look forward to opening our emails.
9. You'll be called a bunch of weird things in our greetings. It's a thing. Probably best not to ask.
10. 15,000+ marketers can't be wrong… can they?
The TMM newsletter is most regularly written by this guy…
I founded The Marketing Meetup because I was that marketer who walked into events and felt fearful to say hello to anyone.
It wasn't just my introversion – it was also the inevitable sales pitches that came along with saying hello to anyone. I figured we could do better.
And so TMM was born. And with it, a safe, kind and welcoming place to learn and meet others. It's just fab :):)
And an important part of all of that is our newsletter. We do our best to have a lot of fun while also making it easy for you to learn from some clever crisps.
This isn't about me – it's about helping and our community feel more sure of what to do next and empowered with the connections to make it happen. I really hope you love the newsletter 🙂