As an event organiser, I get a lot of folks approach me to give talks to my community. Most could be improved. Below is a template that might be useful for you on how to approach event organisers.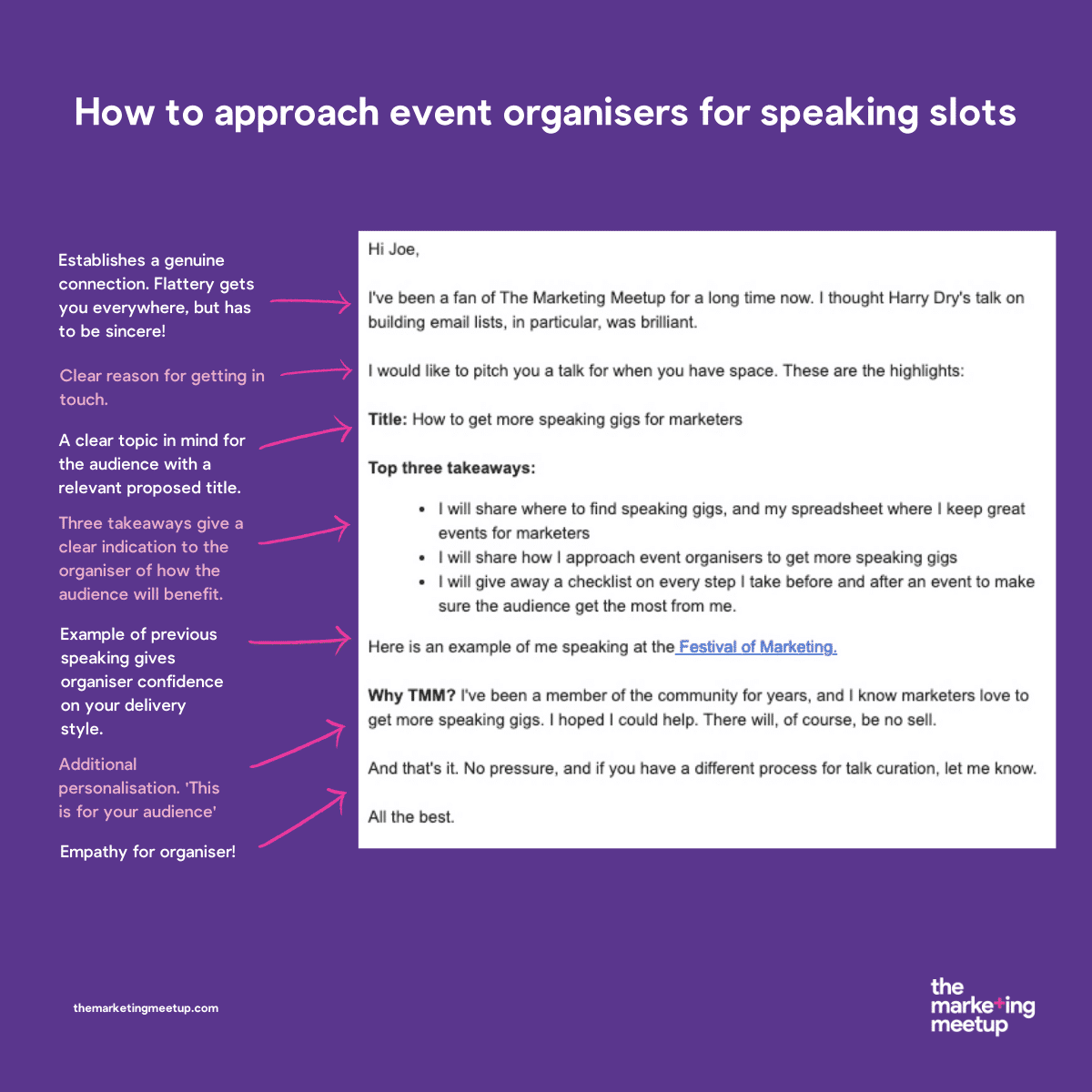 Hints of the reason why enclosed in [square brackets]
"Hi Joe,
I've been a fan of The Marketing Meetup for a long time now. I thought Harry Dry's talk on building email lists, in particular, was brilliant. [Establishes a genuine connection. Flattery gets you everywhere, but has to be sincere!]
I would like to pitch you a talk for when you have space. These are the highlights: [Clear reason for getting in touch.]
Title: How to get more speaking gigs for marketers [A clear topic in mind for the audience with a relevant proposed title. ]
Top three takeaways: [Three takeaways give a clear indication to the organiser of how the audience will benefit.]
I will share where to find speaking gigs, and my spreadsheet where I keep great events for marketers
I will share how I approach event organisers to get more speaking gigs
I will give away a checklist on every step I take before and after an event to make sure the audience get the most from me.
Here is an example of me speaking at the Festival of Marketing. [Example of previous speaking gives organiser confidence on your delivery style.]
Why TMM? I've been a member of the community for years, and I know marketers love to get more speaking gigs. I hoped I could help. There will, of course, be no sell. [Additional personalisation. 'This is for your audience']
And that's it. No pressure, and if you have a different process for talk curation, let me know. [Empathy for organiser!]
All the best.
Helen"