From being in the Marines to founding his own company, Jax Davey's career has been a fascinating one so far. 
After taking a camera surveillance course, whilst serving as a Royal Marines Commando, he discovered a passion for cameras and filming. What began as a hobby – shooting friends on their adventures – soon became a career.
From spending a lot of time on production sets, Jax and his team began to think about the impact their work was having on the places, people, and environments they were visiting. Enter Nuevo – an agency working to lower the carbon footprint of film productions.
In this week's webinar, CEO, Jax, and Executive Creative Director, Seb Royce, took to the stage to explain:
🧠 how we can use creativity to be more purposeful
🧑‍🎨 how to approach conscious creativity
📈 why constantly learning is a better approach than shooting for perfection
Watch the full webinar back above, or read on for the key takeaways.
Table of Contents
🧩 We have a problem
Global economic growth is accelerating at a pace never seen before. This is fuelled by massively increased consumption, tourism, investment and globalisation.
The world, especially developed countries, is consuming far too much. As people who work in advertising and marketing, we are the engine room of the growth economy, fueling that consumption, driving up carbon emissions and exploitation of natural resources, biodiversity loss, pollution and inequality. We are unavoidably part of the problem.

🕷️ With great power comes great responsibility
With our ability to create narratives, spread ideas and change behaviour, we also have the power to be part of the solution.
Creating campaigns to sell more of any product or service with the specific aim of making greater profits (regardless of what that product or service is) and without full upfront consideration of the environmental or social impact of our work, is what the Nuevo team call 'BAU creativity'. Business as usual is killing the planet. Collectively, we need to change course. So, this is the start of a manual for creatives and brand marketers.
Introducing: 'Conscious creativity' –
"A progressive approach to advertising and marketing that is both creative and sustainable.
Conscious creativity involves being actively aware of the impact that our work has on the environment, society and individuals and ensuring that we promote more positive behaviours and outcomes."
'Conscious creativity' is an approach that Nuevo are trying to formulate and give practical steps to help marketers do something good. Below is the code they've created to help you do exactly that.
🤝 10 thing to consider incorporating into your sustainable marketing efforts
1. Questions to ask of agencies and brands
For agencies: before you start working with a new client, ask yourself these questions:
What sector do they work in?
What product or service do they sell?
Who funds them?
Who are they targeting?
What is their stated corporate mission?
Do they have a social/Human Rights policy and an environmental policy?
What comes up when you search about them online and add the word 'review'?
Still feeling good about it?

For brands: before you start working with a new agency, ask yourself these questions:
– What is the agency's stated purpose and/or mission?
– What brands do they work with already?
– What funds them?
– Who is on their senior leadership team?
– How are they reducing their environmental footprint?
– Do they have a social/Human Rights policy and an environmental policy?
– Are they 'walking the walk'?
– Still feeling good about it?
These questions should be approached with nuance in mind.
2. Upfront, insist on any potential sustainability issues being included in every brief.
Quite often, sustainability issues are considered at the end of a campaign. People ask questions like 'how do we offset our emissions from this shoot?' etc, but the end of a campaign is too late. These conversations need to happen upfront.
Highlight likely social and/or environmental impacts and ensure 'eco' claims are properly verified. Make sure you're not greenwashing by running a comms check upfront. Go through all the briefs at the beginning and make sure what is being said has been verified.
3. Try to generate ideas and storylines that feature sustainable, socially responsible, diverse and inclusive lifestyles and locations
And ask whether these can be produced in a sustainable way too.
This can look like: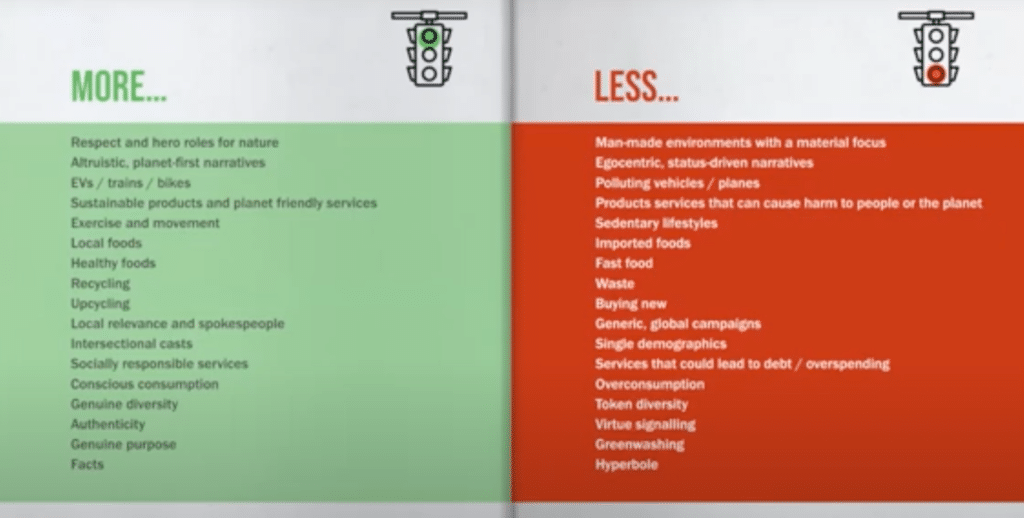 4. Vary the tone – it's not just 'stick' over 'carrot'
Sustainability can often be worthy, preachy, bleak or boring. This can be off-putting for consumers, and your goal is to engage as many different people and as many perspectives as possible.
Vary the tone of your work. Don't be afraid of using warmth, wit, humour and energy when it is appropriate. Inject hope and positivity. Work to empower people.
5. Try to choose responsible production partners
Whoever it is that you're working with, make sure they are people who put people and planet first, and who acknowledge and try to reduce the carbon footprint of their work.
6. Consider media and distribution channels that have the lowest environmental impact
There are lots of interesting organisations popping up that are concerned with environmental impact. We should all be pushing our media agencies to be looking at the channels they're in. Nuevo recommends checking out people like Good-loop.
7. Create post-campaign impact reports that are shared with the whole team
These should consider what you'd do differently next time and set benchmarks.
8. Feed learning into subsequent briefs
It's really important that projects don't work in isolation, and that there's progress over the course of campaigns. Build in feedback loops so that you're constantly iterating and learning.
9. Recycle good ideas!
You spend time, energy, effort and money coming up with new ideas. If, for whatever reason, an idea stalls, and you think that it has the potential to make a positive environmental or social impact, look for another opportunity to make it. Don't let your work sit in a bottom drawer and go to waste.
10. Keep moving forward.
Conscious creativity is a journey. You don't have to be perfect, but you do have to ensure that you and your team are progressing. Track, ask, and insist on knowing how you and your business are doing. Be relentless. This is too important. The world needs you. Don't stop.
Nuevo recommended resources for sustainable marketing and creativity