👥 How to get your team involved with your social media content production with Nana Crawford
Read time: 3 minutes
If you would like positivity, social media, and incredible samba dancing in your Linkedin feed (why wouldn't you?!), look no further than Nana Crawford. She's the award winning social media marketing manager at British Red Cross and this week, she joined Joe for a Q&A about how to get your team involved with social media content production.

It was 53 minutes of fun, energy, and nugget after nugget of tangible and thoughtful social media marketing advice. Nana shared lots of examples and ideas for how to create trending content, and positively impact your colleagues' confidence levels.

See above for the full video where you'll also find out the answer to the question on everyone's lips, 'where is Nana's jumper from?!'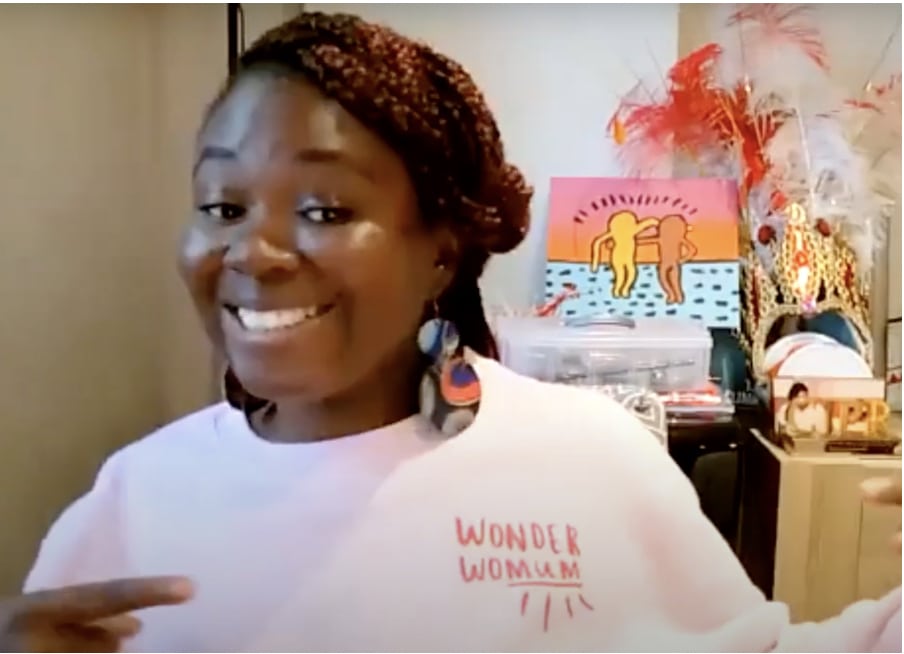 Step 1 – Ideation
💻Set your expectations before you get people involved with creating the content
When it comes to taking something from ideation to execution, there are so many things to consider. Nana explains how it is important to set the expectations and requirements for your idea before you get anyone else involved. This looks like answering the following questions:
Where do I want this idea to go?
Where is it going to sit?
What kind of people do I need to get involved in this content?
What are those people like and how is it best to approach them?
Once you've clarified the idea, you will be able to write a clear brief that sets out the content you need and who from.
🖇️"The definition of creativity is the connectivity of two seemingly unrelated things"
Nana's team use a big whiteboard to keep track of any incoming ideas, which they colour code and match up with overarching campaign themes. For example, if someone in the team comes across a promising audio clip on Tiktok, they'll stick it on the board and write a key marketing message that it could be used for. Then they get to work connecting the two in an engaging way that will land the message with their intended audience.
Step 2 – Communication
💃First things first, read the vibes
Once you have your brief, you'll want to approach the people you want to create the content for you. Explain what you need first, and only proceed if the person seems enthusiastic.
🤝It's about compromise, collaboration, honesty, and transparency
The key is to be hands-on with your collaborators. If they're not that confident, be there to reassure them. Show examples of what you want and share tips along the way. Nana is particularly proud of her ability to turn shy people into social media stars 🌟through great communication.
Step 3 – Production
🤕Get ahead of painful sign-off procedures, by getting approval of the key messaging in advance of the content production
When a piece of content is linked to a wider project, there can be several layers of approval it needs to go through before it can be posted. In an organisation like British Red Cross, this would need sign off from the project manager. This can take time that you don't have when you're trying to react to social trends. Nana suggests putting the work in upfront, to get sign off on the exact messaging you'll be using. Then, you'll have the creative freedom to take the approved message and deliver it in the most engaging and useful way without any delay.

🏁Give people an opportunity to feedback on their content
Once someone has created the content you've asked for, be sure to thank them for both their time and energy. Go away and work it up into a finished piece that delivers on the brief you initially set out. Ask them if they want to see it before it's posted, and if they do, make sure they're happy with it before you press share. This helps people feel really proud of their involvement.
Step 4 – Feedback & Advocacy
🚦Let your colleagues know that their content is live
Create a culture of celebrating the people who have helped by sharing the links with them and the rest of the company once the content is live. You could do this through harnessing existing internal comms channels, or by shouting them out on your personal Linkedin page.

🎉Celebrate how their content has helped the business
As a social media manager, you have a responsibility to show people the impact that they can have by creating content with you. When you are pulling your monthly reports, note any standout pieces of content that have driven great action, and then go back to those people and let them know what they've helped to achieve.