Writing by John Lyons – A senior marketer with 20+ years as a consultant and both agency & client side, including founding and exiting two agencies, Sales & Marketing Director at the NDL Group and as senior manager on the global loyalty program for The LEGO Group. Also a graduate of Mark Ritson's mini-MBA, keynote speaker and podcast guest. Find John Here.              
As an industry, marketers are paid to think long and hard, in three dimensions, over and under and round and round about things which will usually go unknown or unnoticed by real humans. Or what we would term 'consumers;. It's a fundamental necessity of our profession, as we are in effect doing the thinking so that our potential consumers don't have to.
Often this overthinking is allowed to float externally, whether in articles for trade publications, podcasts, keynotes or a good old-fashioned Twitter pile-on. On the whole, this is healthy, but sometimes we fall into traps of semantics, whataboutery or simple anecdotal perspectives.
I'd say that nowhere is this more the case than "loyalty".
The concept of loyalty, or more specifically brand loyalty, is one of the most confused and confusing areas of marketing, not least because of the multi-faceted moniker itself.
Let's deal with a few clarifications on loyalty:
Brand loyalty is not comparable to familial, furry best friend or romantic loyalty. Let's stop pretending it is, or simply pointing out the differences between your stance on your lover versus your toilet paper of choice. Not the same, and they clearly shouldn't be. Nobody is planning on growing old with their toilet paper. At least I hope they're not.
Instead of loyalty it would be more accurate to refer to it as X, Y or Z. But that's not going to happen, so let's accept the flaws of the terminology and focus on the pros, cons and outcomes around this thing that we shall, here at least, call brand loyalty.
Brand loyalty is related to brand love, which has been discredited and so brand loyalty is a myth. It's really not, and whilst there are a few brands that maybe – at a stretch perhaps – can consider themselves loved, brand loyalty does not inherently come from brand love. Most brands are not loved, but they will still have loyalists.
Finally, there is no such thing as brand loyalty as anyone who has read How Brands Grow knows. See, the problem here is that you might have read it, or something pulling out some of its key points for a LinkedIn Post or a Twitter  1/♾️ but you need to go back and read it again. Not only does it not say there is no such thing as brand loyalty, it states that brand loyalty is subject to the established double jeopardy laws, and so the bigger brands stand to gain more loyal customers.
So what actually is brand loyalty, and what – if anything – can it contribute to our marketing goals?
As has been reasonably well established now, consumers don't think about our brands very much at all, and far less consider that they have a relationship with them.
The importance of physical and mental availability, salience, the all-important brand equity and good brand management has been written about many many times by far smarter thinkers than me (see Byron Sharp and Mark Ritson amongst others), so let us assume there are no naysayers about these foundations and focus on what might be the next step towards that thing called loyalty.
For there to be brand loyalty, a brand has to provide something above and beyond the commodity within. Otherwise, we have loyalty without reason, and what Professor Sharp has actually said is that there is no loyalty without reason.
The reason could be something within the quality of the product eg:
The cut of a Hugo Boss shirt,
The balanced refreshment of a Diet Coke
The compatibility of a house of tech.
It could be something related to the buying experience – the shopkeeper knowing your name or having your favourite snack ready for your usual visit.
Or it could be something beyond the repeat purchase of what is in effect a replacement item – a shirt, a soft drink or a bag of donut holes.
Without the basics, without the product and purchase experience being objectively positive there is nothing that planning or communications can do to create loyalty.
Let's get to the fundamental rub of brand loyalty. It is almost never monogamous.
Yep, read it again: it is almost never monogamous. And I say "almost" only because I'm not a fan of proclaimed absolutes.
Consumers mess around with other brands, and smart marketers found out. And that is absolutely fine.
Consumers tend towards a category repertoire of brands, and regularly buy each brand depending on the situation, or category entry point, and availability.
I am a big fan of Diet Coke. I have always preferred its subtler taste to full-fat coke and the over-sweetness of Pepsi, and now that I'm a diabetic it is a safe choice for me as I know the instant I see the silver sleeve with the red ribbon that I am good to go.
But nobody has ever died of thirst because their favourite brand isn't available, so sure I'll take a Diet Pepsi if that's the option and, failing that, perhaps a 7 Up Free (because guess what, cola is not a category as such, soft drinks are and in all honesty the CEP of wanting to quench my thirst beats out the category choices), a bottle of water or hey, even a cup of tea. No sugar, thanks.
In most cases the best a brand can aim for, and I would suggest in particular brands where there is a product or line that is more or less re-consumed each time – so the vast majority of FMCG / CPG brands for sure – is to be the preference in a consumer's category repertoire.
This might feel too transactional when compared to the promises of brand-consumer love-ins and retention being the new growth, but in most cases this is not only the zenith, but also a commercially beneficial position to attain. And surely as marketers we are in the business of creating commercial benefit above all else. So long as you have the physical availability of course.
I don't need to love my toilet paper brand, but so long as the supermarket has it, as in all honesty who wants to think too hard about toilet paper?
But not all brands are built equal, and not all categories operate to the same repetitive and potentially fragile model (fragile when legacy players stand still, see the tea market here in the UK and Yorkshire Tea's remarkable rise from nowhere to number one in category).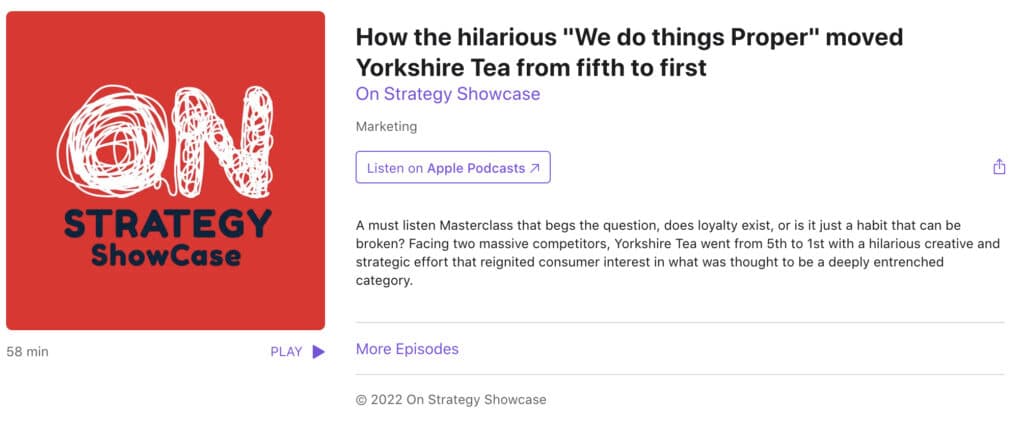 Sports franchises, including football clubs – or for American readers, football clubs – are still brands, and we know that there is huge loyalty, passion and – here's a clue to the future – commercial potential in line extensions, sponsorships and collaborations for sports clubs.
Two brands that have done much to understand what drives their audiences, which in category terms are the same audience, are Nike and Adidas.
What these powerhouses recognise is that, sure, light buyers may well stand at a rack in a high street multi-brand apparel retailer and select their product (and let's not forget those all-important light buyers, retention is not the new growth, you need them for growth). But there are a significant number of sneaker heads who are waiting for the next exclusive drop, and their purchase is not because of a category need but the embodiment of FOMO combined with a collector's mindset.
Not only does the brand equity they have developed over decades of great products and great marketing make this a possibility, but it also feeds back into the brand equity. It adds more value to the products and protects the brand from price elasticity.
In these cases, both brands have owned retail channels as well as their traditional manufacturing operation selling through third-party retailers, and typically there is more value to be gained through owned channels than via wholesale. The loyalists know this and want to benefit accordingly. They want first access to new product drops, they want to be kept in the loop with the brand, they want collabs and they want gifts with purchase.
See also The LEGO Group. Sure, LEGO sets can be bought interchangeably with other toys or hobby sets, and it's worth noting that they have deals with the same IP partners as their most direct category competitors. But almost uniquely every single LEGO brick or element you have ever bought, or will ever buy, fits with all the rest. Even Duplo bricks fit the smaller classic LEGO bricks.
Unlike FMCG/CPG staples, it is not a brand or product in stasis serving the same identical need each time it is purchased. It is a brand and a product where each purchase both compliments previous purchases and brings something entirely new (unless you mistakenly buy a set for your son which he already has, in which case you might stick it in a drawer until one of his friends have a birthday and, well, ok yes I have done this. Don't judge me).
In addition, consider the brilliant spread of both owned and licensed IPs which allow for a rich and evolving product catalogue. It is both familiar and new each time a new set is purchased. And people really do love LEGO. Adidas and Nike have used collabs in a similar way, Adidas even having a collaboration with The LEGO Group in fact.
And again, as with Adidas and Nike, The LEGO Group sits across both manufacturer and retailer channels, and so the benefits to the brand, and given their commitment to market orientation, the benefits to their fans of having a brand ecosystem is huge.
It really should never be a case of retention versus acquisition. For brands that have the means and a catalogue plan to activate, it should be a case of acquisition plus retention. And with some product launches focussing on one rather than the other. And if you can't do both, focus on acquisition as Professor Sharp says. Never stop feeding the funnel with light users. Never.
A loyalty or CRM program can play a big part in executing retention or repeat purchase objectives, but marketers really do need to consider what question they are asking before deciding that a loyalty program is an answer. And then evaluate the data, establish what commercial value – if any – a program might provide, when – if at all – it will break even, and finally what is the actual value in having a program. And value can be measured in many ways, but they have to be tangible.
The truth is that many existing loyalty program members are likely to be or become heavier buyers in your category and/or of your brand anyway.
There is more chance of me sitting through a Gary V monologue calmly and without expletives than there is of a program not cannibalising existing or intended sales, and it can be hard establishing what percentage of sales which might be attributed to a loyalty program would have taken place regardless. This is all too often overlooked, but not by smart marketers or those operating successful loyalty programs.
That said, smart programs can and do increase the bottom line, and serve as a destination to bring lighter users into a brand ecosystem which has its own intrinsic value. Again, it's not growth or retention – where the brand has the resources and is a suitable candidate for a program, it should be closely aligned with and therefore benefit from the light buyer acquisitions and serve the bottom end of the funnel.
One of the bluntest tools in the loyalty toolbox is building an email database. Sure, you need a plan of what to do with that, but I have little doubt that many of us have been given a brief where the objective is to acquire email addresses. Because email! Many of us will also have had briefs to grow followings on one or other social network too. Because, um, because! Consider it done, and the ongoing nature of a program means both a lower opt-out rate and better quality of user data (as in far fewer made-up email addresses).
How the email database is used will very much depend upon the brand, the category and the target market(s), but email still outperforms other digital channels for direct response and so it can be an incredibly powerful activation tool for new product launches, line extensions, seasonal activities and events.
A loyalty program can also provide invaluable and evolving insights into who actually buys your product – which for manufacturers without owned retail channels is even more valuable. Many will know little more than unit volumes by region and retailer, and if they aren't market orientated or had a well-trained marketer assess the marketplace, this could be the first time they are able to test assumptions made about the personas they are planning around.
Finding out that Brad, the frat boy who likes to play beer pong, is aged 23 and drives a pickup and who likes to watch WWE with his 1.35 housemates is not actually the person who buys your product is one hell of a lesson. And let's not forget the layered intricacies of purchaser as opposed to consumer. It can be messy, and good market research will uncover this. But we all know that's not as standard as it should be.
Overlaying first party data about program members, such as location, age range, birthday etc with what they purchase, when and where can provide insights to feed new initiatives, whether marketing or product based. Non-intrusive ongoing surveys and communications only helps add richness to this picture. And no, they do not represent your whole audience and as has been shown elsewhere they will account for a smaller volume of sales than light buyers. But it still has value.
The mechanics of a loyalty program are neither here nor there right now, and as we know there are multiple models ranging from third-party benefits, early access to new releases, invites to events, exclusive rewards, discounts and cold hard cash. All have their place, but as ever I'd suggest moving from discount towards a value proposition if brand equity is important. And it should be, right?
Finally, it is an opportunity to nurture brand loyalists, to represent the best of a brand to those who show commitment and to those who are genuine fans of the brand.
Now, this is certainly not for all brands, but for those where owning a piece of something, a collectable, a limited edition, something only the most dedicated of fans have access to, or those where fans see the brand as part of their projected identity (your football club, a graphic novel series, a lifestyle brand or, yes I'm going to say it, a Danish maker of brick-based buildables) that has inherent value to the consumer. So long as, and I cannot stress this enough, the brand is already providing a great product and a great experience across all channels and touchpoints.
Any or all of these things have value, and should be considered along with the cost to ensure that any move into loyalty or retention marketing is a brand and/or commercial success.
And so, finally, to conclude this little brain dump:
– Brand loyalty is not monogamous.
– There can be no loyalty for an unworthy brand or product.
– Being the preference in a category repertoire should be the ultimate big hairy goal for all brands.
– Retention is not the new growth.
– Focus on the question of what your brand needs to achieve rather than jumping to the tactical conclusion, be that loyalty or anything else.
– Be clear about any investment and honest about the timing and nature of the outcomes.
– Understand what drives your consumers, this is about them more than the brand.
For those that have made it this far, thank you. I hope it was an interesting read whether you agree with all, some or none at all. I'd love to hear your thoughts on this, let's have a nice grown-up debate.